Genuine, Christ-like caring for one another is the essence of true discipleship. Since the announcement of the "holier approach" to serving others in 2018, many members of The Church of Jesus Christ of Latter-day Saints heeded the call. For the Catarman Philippines Stake, ministering visits go beyond that.
Armed with weighing scales, food charts and a food recipe or two, ministering brothers and sisters visit homes to share not only the Gospel of Jesus Christ but also to measure the progress of children age zero months to five years old enrolled in the stake's pilot nutrition program.
Sister Jean B. Bingham, Relief Society General President of The Church of Jesus Christ of Latter-day Saints, learned more of the stake's effective efforts as she visited homes of families under the program on Monday, 3 February in Catarman, Northern Samar as part of her ministering visit in the region.  
"Visiting the families that were part of the nutrition program was amazing," the General Church officer shared. "When they were first told that their children weren't getting the appropriate nourishment, it must have been a shock. And yet they thought, 'I'm going to do everything I can to help my child.' They made every effort to keep track of what they're eating and to provide the appropriate nutrition."
Catarman, a first-class municipality in the province, is a quaint agricultural town with a population of 94,037 according to a 2015 census. Coined as a university town of Eastern Visayas, the Municipality of Catarman is lush with greenery, wide rice fields and outlying low hills filled with coconut trees. As it's nestled on the Pacific coast, the municipality is not lacking in nutrient-dense seafood as well.
Despite being an agricultural town that grows and supplies coconut, rice, abaca, corn, rice and vegetables to other parts of the country, nutritional deficiencies remain a threat.
Sister Bingham learned during their visits that malnutrition is not limited to any particular group. "There were parents who were educated, parents who had sufficient income, and yet their children had the same kind of challenge." She then relayed the shock of a young bishop who learned that his child is undernourished.  "So really, it [malnutrition] can strike anywhere," she said.
The Nutrition Program
To help curb nutritional deficiencies, the Church piloted the nutrition program in the Philippines. It is a local and area-led effort to help address stunted growth and other ill effects of poor nutrition of children age zero to 60 months.  
In 2019, the Catarman Stake, under the leadership of Stake President Amado E. Estonanto, Jr., mobilized whatever resources they have to move the project forward. They organized a Stake Nutrition Committee and called Jeremiah Pedrola, a Church member and a nurse by profession, to take the lead. They then called members with a medical background to help create a system to train member volunteers who will serve as nutrition specialists in their wards (congregations). The Stake Nutrition Committee also sought help from local government units and rural health unite to provide nutrition training.
Latter-day Saint Charities, the humanitarian arm of the Church, provided standard weighing scales and other equipment to measure properly the weight and height of children for the mandatory pre-enrollment screening.
In March 2019, they held the first malnutrition screening at the Catarman Stake Center and had an initial of 86 children enrolled in the program. On the second malnutrition screening, there was a 48% to 58% increase of children enrolled. Currently, there are over 100 children five years old and below under the Nutrition Program.
"One of the things I noticed is that the program that was done here was not something that was sent from headquarters," revealed Sister Bingham. "But actually, the leaders sat down and counseled together. They received revelation. They acted on the revelation. They learned from what they had done and they created a marvelous program that was really beneficial to the members here. That sense of partnership, loving your brothers and sisters, was just marvelous."
Holistic Ministering Approach
Peter Delima, co-chairman of the Catarman Stake Nutrition Committee, shared that one of the key factors that contributed to their success was integrating the nutrition program into their ministering efforts. Weekly visits with families included a follow-up on the children's progress. Monitoring of the families' food intake, food preparation, and sanitation became a part of their discussions. Every month, ministering companions would weigh children and chart their improvement.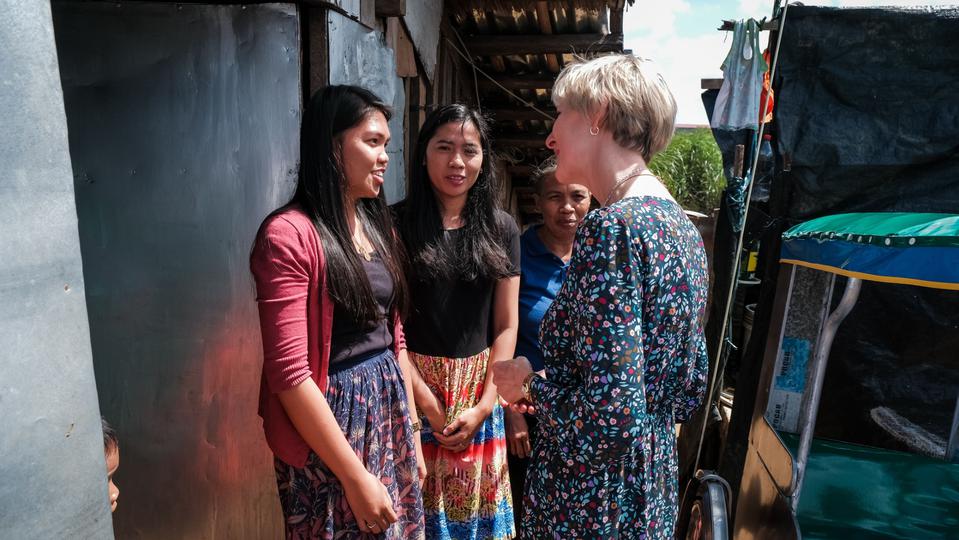 "I think one of the things that I appreciate with the ministering sisters, they were so dedicated to loving those children and their mothers. They would visit them often and they would help them with whatever questions they would have, and they would provide the support and encouragement that they needed to make a difference in their children's lives. Ministering really works," Sister Bingham said. 
However, whenever a child doesn't show signs of improvement, ministering brothers and sisters would identify the underlying cause and discuss the concern in private ward council meetings for solutions. Ministering companions would then address the concerns in their next visits,  providing either further trainings or customized meal plans.
Such was the case of Merlyn Cornillez, a ward nutrition specialist whose assigned family had a son with G6PD deficiency. To help the child get the appropriate nutrients, Merlyn helped the family create a meal plan that would fit their budget. Another case was that of Clarissa Velez. Despite living three kilometers away from one of her assigned families, she would visit them at least three times a week to check on the children's progress.  
In selecting which families to focus on, local Church leaders worked with ward Relief Society leaders to identify those who need urgent care.
 "One thing that I saw in the nutrition pilot was how the priesthood leaders, the Elders quorum, the bishoprics were working just hand in glove with the Relief Society leaders," reported Sister Bingham. "The Relief Society leaders really provided some strength and background that really made this effort move forward. I love how the sisters took the initiative. They didn't hang back but they went forward and helped."
A year later after its implementation, President Estonanto reported an increase in Church activity in members under the nutrition program. Children are now active in Primary, an organization specifically for supplementary gospel instruction for kids age 0 months to 12 years old. 
Charlene Lagrimas, one of the many young single adults who volunteered for the project, shared her observation of the changes she has seen in one of her assigned families.  She relayed that the Sarmiento grandchildren are now happier and more energetic. She also observed that they're more confident.
Long-Term Sustainability
The Church nutrition program not only helps curb malnutrition during a child's formative years but to also empower families to become self-reliant by providing trainings on vegetable gardening, cattle raising and other relevant skills.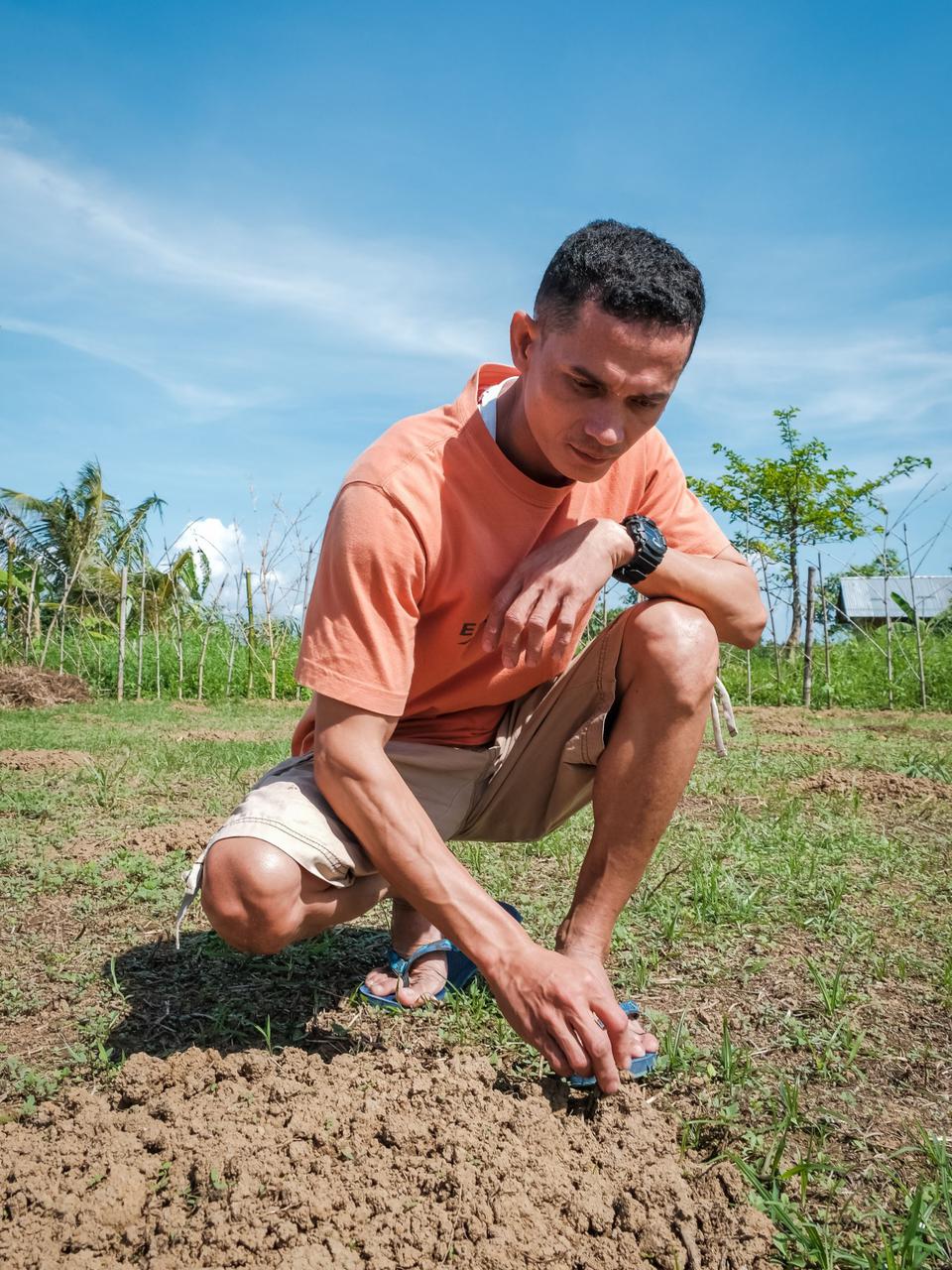 Franco Batiles, a young father of three children under five years old, shared that being in the nutrition program helped him understand the importance of taking care of his family, especially in providing the nutritional needs of his children. With ample space in his backyard, he's become more diligent in growing fruits and vegetables for his family.
Value of Health and Nutrition in the Church
One of the principles that the Church teaches its members is the health code known as the Word of Wisdom. The provisions included in this health code is the avoidance of substances that can harm the body, such as alcohol and cigarettes, as well as guidelines on what type of food to eat to keep the body healthy and strong.
Maintaining good physical health allow people to become self-reliant, help them progress personally, strengthen their families and become positive contributors in the Church and in the community.
With the successful implementation of the program in Catarman, the Welfare and Self-Reliance Department is looking at how the strategies can be implemented in other stakes. Additionally, the Church in the Philippines plans to implement the program in more stakes and/or districts (small dioceses).
This isn't just the only area where this is a challenge," explained Sister Bingham. "Once we can figure out how to address this problem here, that can be replicated in any area of the word that has that challenge. I'm just really excited for the future of the children of the church when this goes forward."