When the Enhanced Community Quarantine (ECQ) in Luzon was announced, instead of rushing to buy food supplies, Carlomagno Aguilar did the opposite.
While most families in his city in Angeles, Pampanga rushed to grocery stores, he went straight to his suppliers and bought plenty of seeds and fertilizers for his garden before buying groceries and other essential supplies.
Carlomagno has been an urban farmer since 2011. He began by planting sweet chilis in front of his apartment. Today, what started with just five pots became hundreds of kilos of vegetables in different farmlands produced by him and his team.
Aguilar shared that his passion is in the soil. Even when he worked in a bank, he made sure that he would tend to his small vegetable garden before and after his work. He believes that there is potential in agriculture even if people think otherwise. He always tells himself, "People work very hard to earn money and buy food for their family. Why not just grow it?"
Aguilar revealed that the most common challenge he encountered in urban gardening was dealing with typhoons and droughts. Eventually, he found find ways on how to resolve these, and that is by putting up a small nursery to protect small plants against rain and installing drip lines to make sure that plants get enough water during the hot season.
Helping Others
"It is important for [Church] members to do urban gardening because first, it saves you money. If you have kangkong, alugbati, and kamote tops on the side of your house, you don't have to buy these in the market. They are also very easy to grow," shared Carlomagno. "Second, it gives you confidence that in times of crisis or food shortage, you will have easy access to food."
Carlo shared that even if the lockdown will take a while, he feels confident that he will have enough food to feed his family.
The best part of having an urban garden is sharing his vegetables with his neighbors. He shared that whenever there's a surplus of produce at each harvest his neighbors get free vegetables.
Free Gardening Tips
Aside from gardening, Carlo revealed that he loves to teach. Being a self-reliance specialist in his stake (diocese), he decided to reach and influence more people to try gardening by creating a  YouTube channel called Carlo the Farmer where he shares tips. His videos include tutorials on growing culinary herbs, selecting fruits to plant in the summer, converting kitchen waste to plants, and choosing quality seeds, among others.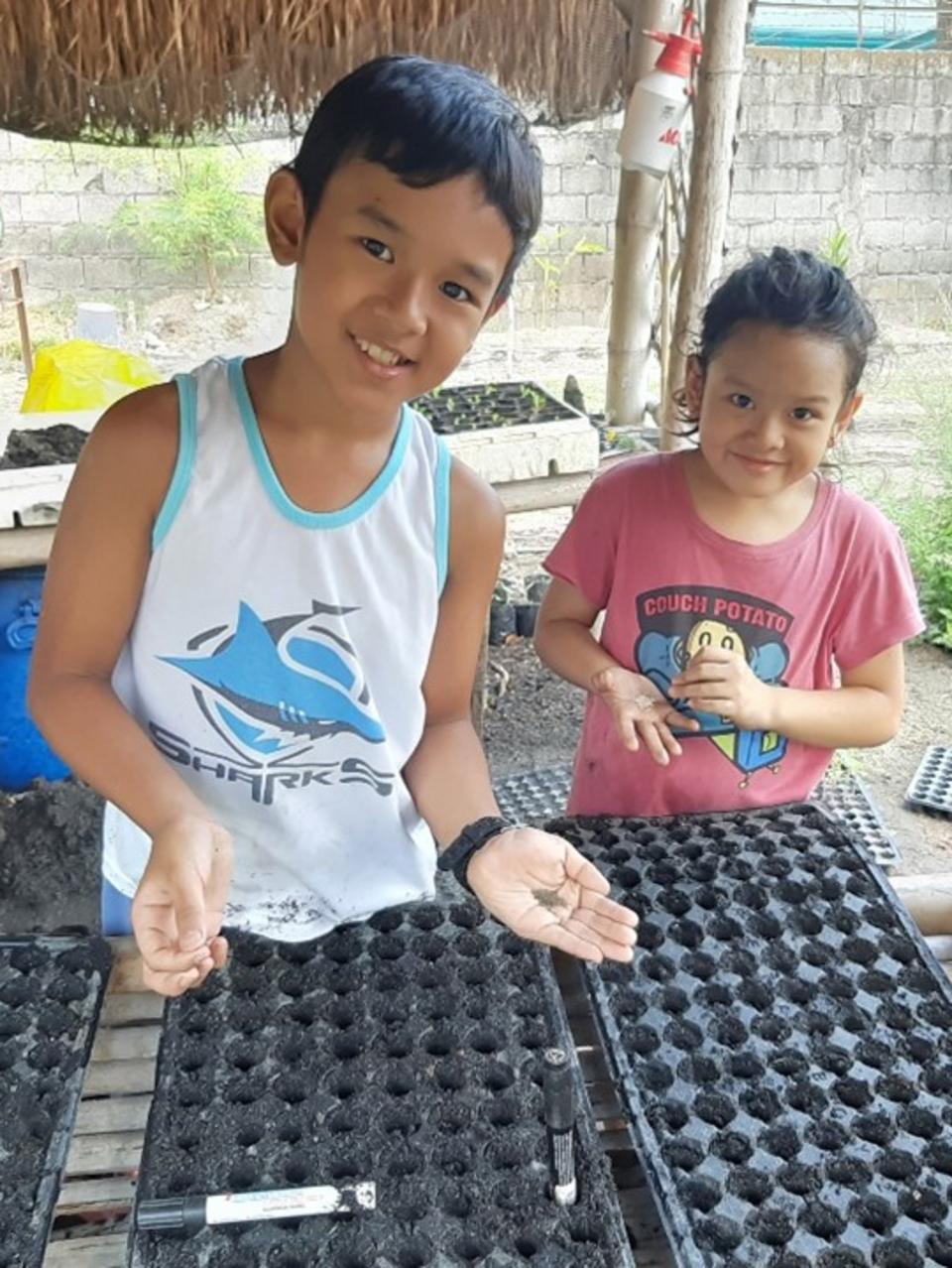 According to Graciel, Carlo's wife, "We promote home gardening. That is why we conduct training and make vlogs on how to start and maintain a home garden. It is our mission that every Filipino household can grow their own food. As part of this advocacy, we also teach the younger generation all about farming and gardening so we could influence them to be our country's farmers in the future."
Important Lessons in Farming
Carlo shared that one of the most important lessons he gained from farming is patience. "Farming is not like a factory where the process flow can be rushed. Food production has its own process and cannot be rushed," he said.
Another important principle he gained from farming is self-reliance, an essential principle which is the ability to depend on yourself and not on others. He said, "Many people all over the country are suffering from hunger and are relying on the support and relief of the government. If every family has its own vegetable garden then hunger during this crisis will not be an issue."
As the ECQ continues, Carlo's garden has provided them temporary sufficiency. Not only has it become a source for food, but it has given him a source of income through the selling of herbs and vegetable seedlings to his neighbors. He is thankful for the example and legacy of his father who taught him how to farm at a young age. Today, he involves his family in farming especially his children who toil tirelessly in their garden.
Carlo's advice to members of the Church is to start learning how to produce their own food. "Farmers are getting old, farmlands are being converted to subdivisions, and our population keeps on growing. Time will come where food will be scarce and expensive and there won't be a lot of farmers to grow our own food. With the pandemic that is happening, people are now beginning to realize how important it is to know how to grow your own food," he said.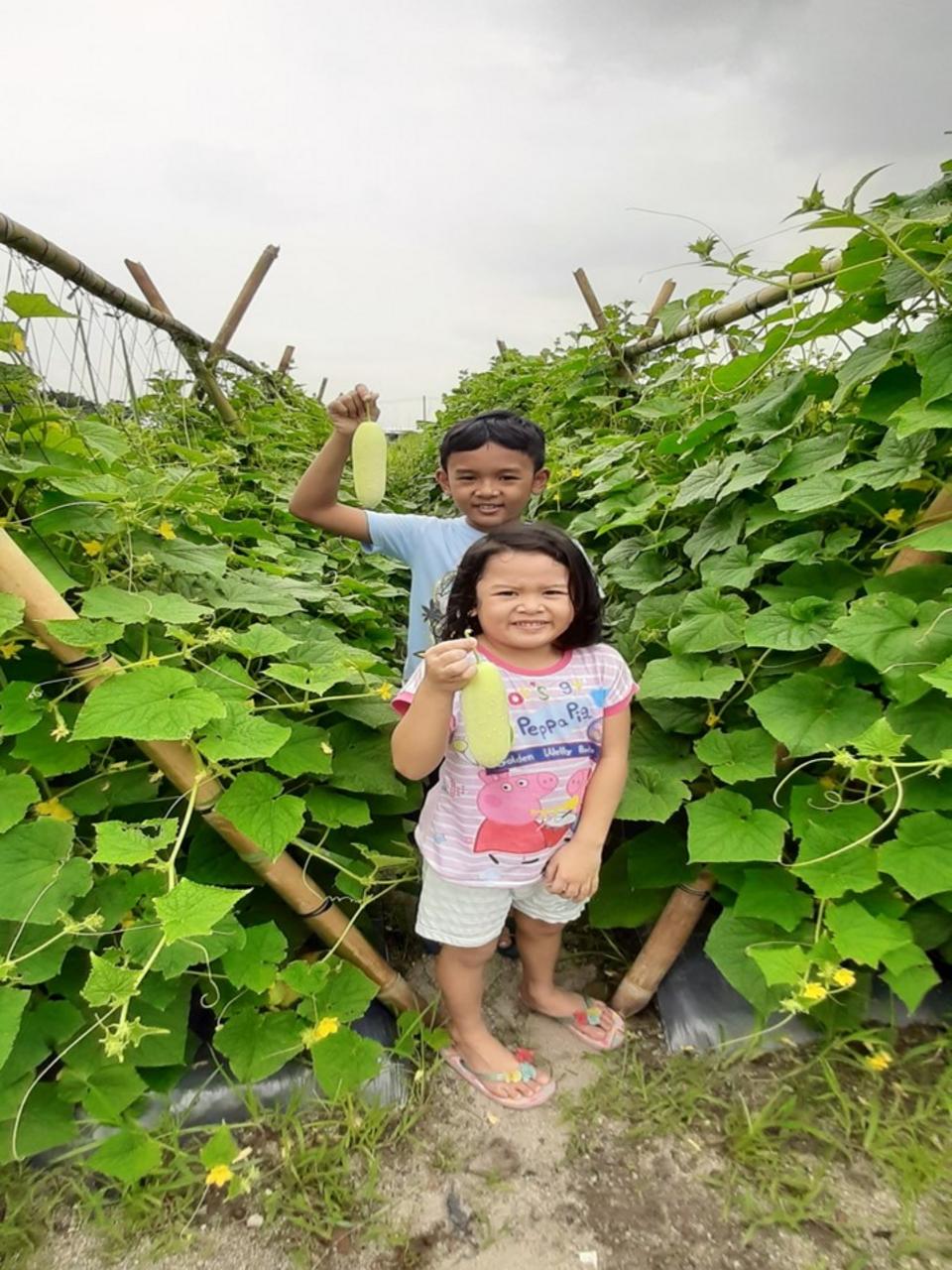 For the Aguilars, it is an opportunity to teach the value of growing food. "When my children see the process of growing food, it will be easier for them to realize not to waste food," he concluded.