"The Filipinos are being extended the Lord's promised blessings of education through the newly announced expanded educational options," commented Joenee C. Briones, International Area Manager of BYU-Pathway Worldwide. His statement came as a response to the BYU-Hawaii Pathway Track program, the recent partnership program by BYU-Hawaii and BYU-Pathway Worldwide which aims to expand educational opportunities for people in the Philippines, Asia, and the Pacific Islands.
Sponsored by The Church of Jesus Christ of Latter-day Saints, BYUH and BYU-Pathway announced on November 8 that effective immediately, students who have completed either BYU–Pathway's foundational PathwayConnect curriculum and/or a certificate or associate degree will receive priority consideration for admission to BYU–Hawaii. 
Speaking of the opportunities that the BYU-Hawaii Pathway Track program could afford to Filipinos, Joenee continued:
With the unique offering of a balanced academic and spiritual learning, our students can expect to earn quality education while becoming disciple leaders of Jesus Christ. The Lord is building spiritual and temporal self-reliance among the Filipino people. This is what is in store for them, and it could not have come at a more opportune time.
To streamline information for the new program, BYUH has launched the BYU-Hawaii Pathway Track Program Landing Page to help interested applicants learn more. For specific concerns and questions, BYUH has also created the BYU-Hawaii Pathway Track Program Web Form where students can submit their queries. 
For Andrea Panerio from Iligan 2nd Ward (congregation), the track program became an answer to her prayers. She shared, "Since 2015, it has always been my dream to earn a psychology degree at BYU-Hawaii. With this announcement, I am a step closer to realizing the fulfillment of that dream!"
Recently, BYU–Pathway also announced the Heber J. Grant scholarship, which offers students enrolled in the foundational PathwayConnect program a 10%, 25%, or 50% tuition discount based upon a student's need.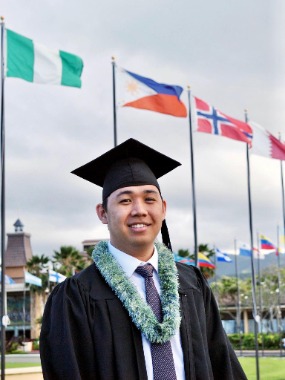 Jun-jun Lopez, a BYU-Pathway graduate, expressed appreciation for the Church's efforts to help provide greater educational opportunities for everyone. He said, "This is great news especially for those who desire to get a good education at an affordable price."
Speaking of the BYU-Hawaii Pathway Track Program, Elder Joves, a young church service missionary, shared, "I loved the educational approach used in the Pathway program - it was a balance of secular and spiritual learning. After graduating from Pathway, however, my plans to pursue my education in BYU-Idaho back then were put to a pause because they didn't offer the degree I wanted. But thanks to this partnership between BYUH and Pathway, I can finally move forward with my goals and earn the degree I want!"
BYU-Pathway is projecting a 30% increase in enrollment with its new scholarship offerings and partnership with BYUH. With the new developments in the program, Joenee added, "It will be exciting to see the outcome in enrollment with the BYUH partnership this coming 2022 January semester, especially with all the media outreach. "
BYU-Pathway Worldwide
The Church of Jesus Christ of Latter-day Saints emphasizes the importance of continued secular and spiritual education. The Church Educational System (CES) is the umbrella for all education programs of the Church. 
BYU-Pathway Worldwide is responsible for all online certificate and degree programs offered by the CES. It provides access to spiritually based degrees at an affordable price. Its mission is to develop disciples of Jesus Christ who are leaders in their homes, the Church, and their communities. As of 2020, BYU-Pathway Worldwide has served more than 50,000 students in 152 countries. Certificates and degrees are offered in partnership with BYU-Idaho and, beginning in 2021, Ensign College. 
BYU-Pathway Worldwide was officially approved by the Church Board of Education to open in the Philippines in 2016 and launched in the 2016 September semester.