FamilySearch International, a non-profit organization of The Church of Jesus Christ of Latter-day Saints dedicated to helping people around the world discover their family history, has customized its popular RootsTech content for local television programming. The content will be broadcast on March 5, 2022, at 6:15 PM on GTV.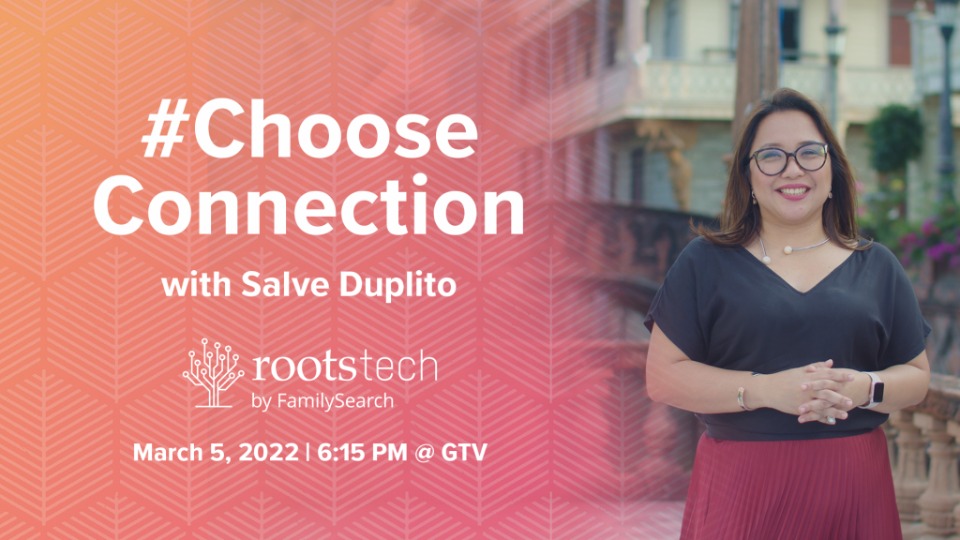 RootsTech is free and is the largest family history gathering of its kind where genealogical organizations such as Ancestry, MyHeritage, FamilySearch, and FamilyTreeDNA join with millions of consumers around the world to help participants learn more about their family origins and generations. RootsTech includes over 1,000 free sessions to help individuals make fun family discoveries and connect with relatives.  
Salve Duplito, journalist and finance guru, will host the Philippine TV special "#ChooseConnection." She will highlight the importance of preserving genealogical documents like the inspiring efforts to save records during Typhoon Yolanda, and the importance of family connections as portrayed in the story of Dr. Astrid Tuminez who came from a life of poverty in Iloilo to becoming the first female president of Utah Valley University in the United States in 2018. 
The television program is a 30-minute special broadcast in conjunction with FamilySearch's RootsTech event happening on March 3-5, 2022 at RootsTech.org. RootsTech is a fully-virtual family history event. The popular event welcomed over one million online visitors from over 240 countries in 2021. 
In the RootsTech 2022 event, two Filipinos will share their stories on family connections. Mona Veluz, known as 'mightymagulang' in social media, is an award-winning social servant and a passionate genealogist involved in growing family trees for clans. She will talk about "Pinoy Pamilya Food Trip." 
David John Sanglap is a genealogist, family historian, and writer. His topic will be "Demystifying Old Spanish-era Records Using Keywords."  
Jairus Aquino, actor, and social media influencer, also lent his voice in inviting people to join in the largest virtual family gathering event: https://fb.watch/bs6EbYvN6d/  
To register for free, one can go to rootstech.org