Every year, the Philippines is visited by an average of 20 typhoons, five of which are particularly destructive. The country's location along the "Pacific Ring of Fire" makes it vulnerable to other natural disasters including earthquakes, volcanic eruptions, storm surges, landslides, flooding, and drought. In order to face these natural calamities, emergency preparedness is the key.
Emergency Preparedness: A Self-Reliance Principle 
For members of The Church of Jesus Christ of Latter-day Saints, the principles of self-reliance and emergency preparedness are taught as a way of life. The Church aims to prepare its members to withstand difficulties and challenges such as natural disasters, illness, job loss, and other unplanned events.  
Elder L. Tom Perry of the Quorum of the Twelve Apostles taught the power of preparedness during the 1995 October General Conference. He said, "The need for preparation is abundantly clear. The great blessing of being prepared gives us freedom from fear." 
The 72-Hour Kit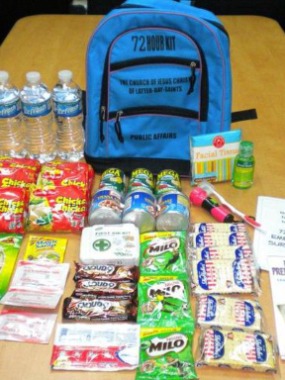 When a disaster strikes, it may take some time for emergency rescuers to locate or reach survivors. In extreme cases, survivors may go for days without food, water, and medical assistance. A 72-Hour Kit is a personal "grab-and-go" bag containing essential supplies to help a person survive for at least three days (72 hours) until help arrives.
Although specific contents may vary, the basic components of a 72-hour kit include ready-to-eat food, water, first-aid kit, medicine, personal hygiene products, sanitizers, radio, extra batteries, whistle, flashlight, thermal blanket, raincoat, and certified true copies of pertinent documents like birth certificates, and passports.
For detailed instructions on how to prepare a 72-hour kit, click here.
The Power of Preparation
Kathyrene Labao from the Masbate Philippines District (diocese) shared the importance of having a 72-hour kit ready. She said, "I hail from Masbate, located in the eastern seaboard of the country. This means typhoons frequently pass by us. ... Having a 72-hour kit has not only helped my family during natural disasters, but it also allowed us to help our neighbors too. We can become God's channel of grace and love for other people who are struggling during a disaster as we share the things that we have with them. Truly, as we obey our leaders we will be blessed and we can bless others."
For Fernando Cadangan from Tuguegarao South Stake (diocese), having a 72-hour kit ready was what allowed him and his family to survive the devastating effects of Typhoon Ulysses in November 2020. He said, "Our Church leaders have always counseled us to prepare a 72-hour kit. So when Typhoon Ulysses struck and the city of Ilagan got flooded for many days...our preparation as a family helped us to survive. It even allowed us to help our neighbors too!"
The Church of Jesus Christ of Latter-day Saints provides an Emergency Preparedness and Response Guide to help individuals and families prepare for emergency situations. This guide contains information on how to plan and prepare for emergencies and how to act and respond in each phase of an emergency—before, during, and after. For more information about emergency preparedness, visit ProvidentLiving.Org.