Mormon Helping Hands readily respond to emergencies after disasters strike, but during the 2016 National Day of Service, volunteers had a happier task--cleaning up after national/local elections. It was a small price to pay for a free society.
Members of The Church of Jesus Christ of Latter-day Saints, large and small, transform into Mormon Helping Hands volunteers when they don the trademark yellow vests. For many stakes and districts (dioceses), their Day of Service started early. "Be at the meeting house at 7 am. Please be prompt!" was the call.
Cleaning up after elections was a part of a larger effort by Mormon Helping Hands to support and improve their local communities. Many congregations partnered with local government units and service-oriented organizations to beautify schools, parks and other areas. Throughout the country, volunteers in groups of 20 to 300 rendered service to benefit their communities.  More than 10,000 man-hours of service were rendered by volunteers
A few weeks after, several congregations also helped out with the Department of Education's Brigada Eskwela project. Classrooms were cleaned, school grounds swept and broken items restored for use. 
A little guy serious about the work.
Greatness often stands on the shoulders of giants.The cleanup project is no exception.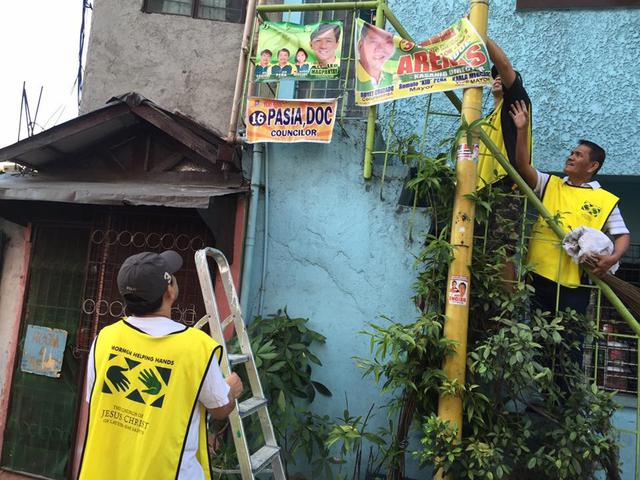 With faith and effort nothing is impossible! Bonafacio 2nd Ward members taking charge.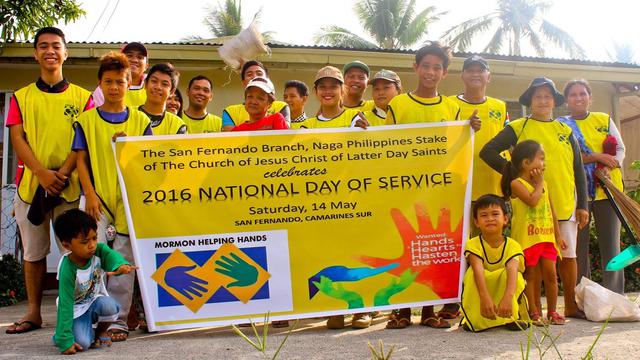 Christian soldiers taught in their youth to serve.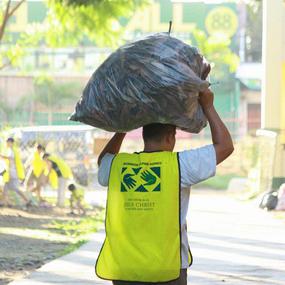 Members of The Church of Jesus Christ of Latter-day Saints seek to follow the Savior, Jesus Christ, and "choose the right." 
"When we serve our neighbors we are serving God," said one volunteer.
 "Thanks to a free country, we can choose our leaders and choose our actions," echoed another with a smile.
According to  President Dieter F. Uchtdorf, Second Counselor in the First Presidency, "The Lord's way ...is to come together, roll up our sleeves, go to work, and build a bridge or a boat to cross the waters of our challenges."