Together with the UniHarmony Partners Philippines, The Church of Jesus Christ of Latter-day Saints hosted an online conference in celebration of the International Day of Peace on September 21, 2021. The theme for this year's celebration was, "Recovering Better for an Equitable and Sustainable World".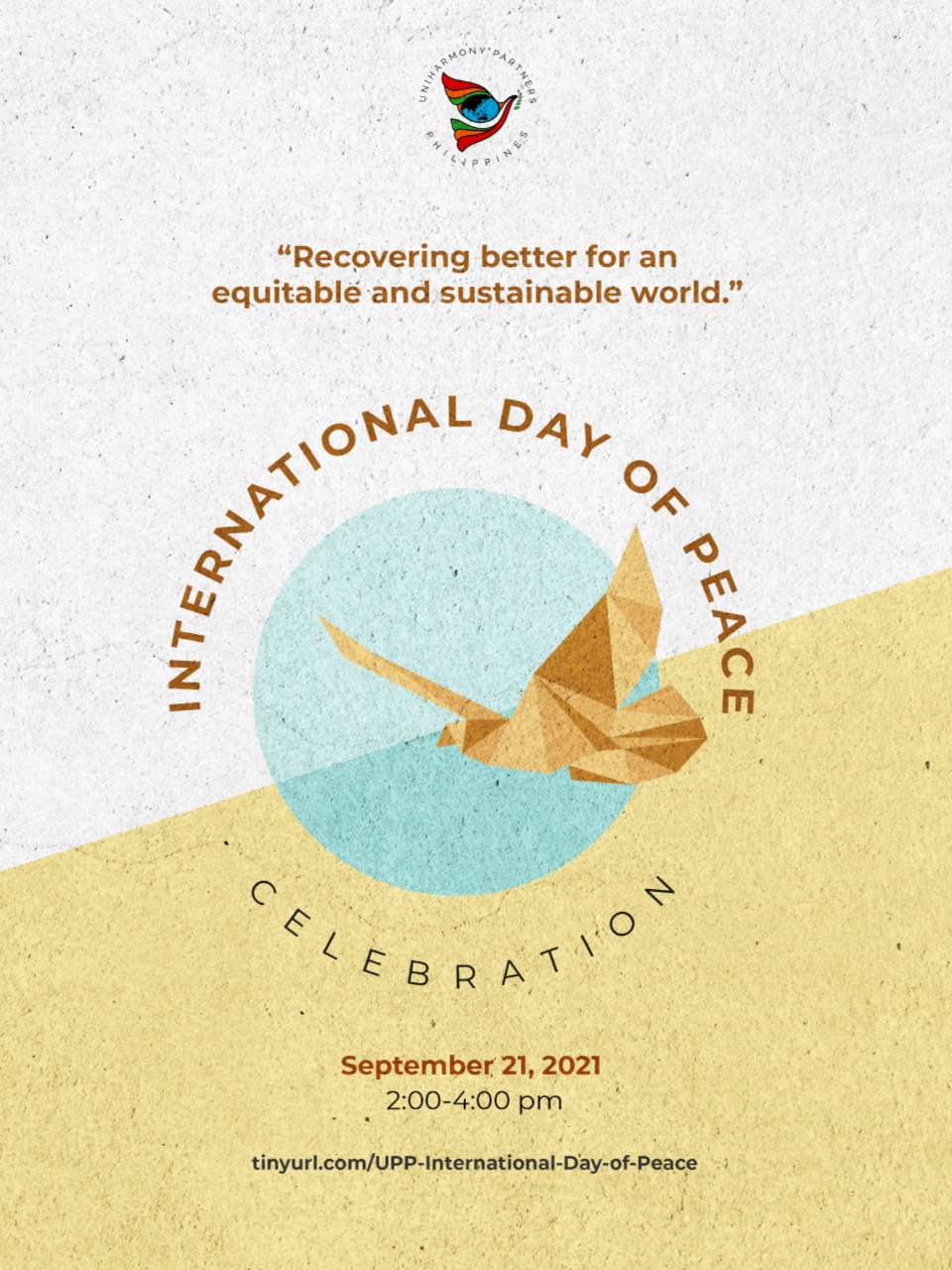 Former Justice Calayag Reyes Jr., Former Justice of the Supreme Court of the Philippines, commended the efforts of the various interfaith organizations in promoting peace amid the ongoing pandemic. He shared, "As leaders of different religions, it is but proper that we all come together and pray as one. I believe it is by our united prayers to God that we can overcome this pandemic." 
Following Justice Reyes' speech, four religious leaders were asked to share their religion's framework and best practices in promoting peace in their communities. 
Venerable Miao Jing Shih, Head Abbess of the Fo Guang Shang Mabuhay Temple shared Venerable Master Hsing Yun's teachings on how "to build a better humanity together." Accordingly, members of the community must live the virtues of compassion, respect, tolerance, equality, and oneness.  
Elder Taniela B. Wakolo, Philippines Area President of The Church of Jesus Christ of Latter-day Saints, highlighted that peace "is not just lack of war, violence, conflict, and contention." He taught that true peace was found in the Savior Jesus Christ and by following His example of compassionate service. As disciples of Christ, part of the Church's efforts to promote peace is through worldwide humanitarian service including donating over US$20 million grant to support the UNICEF's COVAX facility among other global projects. Elder Wakolo concluded, "We do this because we strive to follow Jesus Christ by obeying the two great commandments: to love God, and to love our fellowmen." 
Dr. Potre Diampuan, Regional Representative of the United Religions Initiative, shared that as taught by the Quran, the equality of man, and the brotherhood of mankind is "regarded as guiding principles by God". She taught that peace is a choice each person must make to create a harmonious world. 
United Church of Christ in the Philippines Pastor Alvarado Senturias Jr. highlighted that one way of promoting peace was to stand up against hate, both in online and in-person circumstances. He also added that spreading compassion and hope to the community especially during this pandemic would allow all men to feel a greater measure of peace.
Peacemakers' Circle representative, Dr. Shakuntala Vaswani, shared that Hinduism teaches individuals that peace is achieved when people come together and resolve their differences. She highlighted Mahatma Gandhi's example of non-violence and shared that there were peaceful ways of promoting change.
Dr. Morteza Sabouri, the representative of the Embassy of the Islamic Republic of Iran Cultural Section, shared that in a world of different cultures and religions, there is a great need for mutual respect. He emphasized that people should learn about other faiths to gain a greater understanding of each other.
In her closing remarks, Dr. Lilian Sison, Secretary-General of the Religions for Peace Philippines, said:
This religious gathering today is a testament that [we of different faiths] can come together to promote religious harmony as we live in our respective communities. This is one of the most effective countermeasures against injustice, violence, and hate.
Members of the various religions under the UniHarmony Partners Philippines and Religions for Peace Philippines attended the online conference. To view the entire proceedings of the event, visit the Uniharmony Partners Philippines Facebook page.
International Day of Peace
Each year, the International Day of Peace is observed around the world every September 21. It was established in 1981 by the United Nations General Assembly. This day is devoted to strengthening the ideals of peace, through observing 24 hours of non-violence and cease-fire.
Interfaith Efforts of The Church of Jesus Christ of Latter-day Saints
A respect for the diverse beliefs and unique contributions of all the world's faiths is one of the hallmarks of The Church of Jesus Christ of Latter-day Saints. From the faith's earliest days, Joseph Smith elevated the principle of religious liberty and tolerance: "We claim the privilege of worshiping Almighty God according to the dictates of our own conscience, and allow all men the same privilege, let them worship how, where, or what they may" (Articles of Faith 1:11).