"These schools are not easy to reach, and we need partners like you. We need your support. Teaching a child [isn't just the responsibility] of parents or schools - you are a part of that," said Dr. Teresita del Valle, Department of Education (DepEd) Chief of School Governance and Operations Division. Her message was delivered during the handover ceremony of 3,775 bags of educational supplies and hygiene kits donated by The Church of Jesus Christ of Latter-day Saints to DepEd - Davao City Division last November 24.
The donations were part of the Church-initiated project, "Hope for Last Mile Learners" which aims to provide for the immediate and long-term needs of students from Geographically Isolated, Disadvantaged, and Conflict-Affected (GIDCA) areas with limited access to quality education. This program is patterned after Deped's Last Mile Schools Program.
Through its Hope for Last Mile Learners project, LDSC identified 22 primary and secondary schools from GIDCA zones across Davao City to become beneficiaries of the educational bags and hygiene kits. Each bag contains expanding plastic envelopes, board folders, fasteners, pens, pencils, erasers, bond papers, construction papers, crayons, glue, scissors, sharpener, washable mask, face shield, and alcohol spray. The supplies are designed to provide each learner sustainability and drive for continuous learning.  
Signing the Memorandum of Agreement were Dr. del Valle; President Sesinio Buenavista, Fraternal Order of Eagles (Philippine Eagles) Davao Midtown - Airport Eagles Club Charter President; and Elder Norman Insong, Area Seventy of The Church of Jesus Christ of Latter-day Saints.
Reynaldo Guillena, DepEd Davao City Division Schools Superintendent, expressed his gratitude to the Church for its donations:
The schools' continuos improvement and progress are defined by the strong involvement of its stakeholders. Without them, we cannot make it. As we continue to move forward despite the challenges and trials of the new normal, we are confident that we share the same passion in service and urgency in commitment.
A total of 2,300 hours of volunteer work were rendered by over 200 volunteers from the Church, the Philippine Eagles, and Davao Midtown - Airport Eagles Club.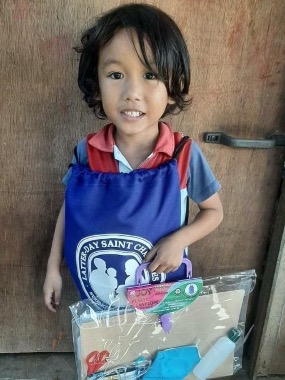 Gloryfel Lubaton, Hope for Last Mile Learners project proponent, had worked closely with DepEd during the project's initiation, planning and execution. She recounted, "Watching Church volunteers working side by side with other volunteers such as those from the Davao Airport police created unexplainable synergy. I am grateful for the privilege to be part of this project." 
The Davao Midtown - Airport Eagles Club led the distribution of the donations to schools situated under challenging terrains and far-flung areas on November 29. Concurrently, Church leaders and volunteers also handed over 1,342 kits to nearby schools namely: Magtuod Elementary School, Waan Elementary School, and Luman Elementary School.
In his closing message, Elder Insong quoted Matthew 25:40 and said:
We hope that this partnership will be a springboard to more collaboration in the future. The recipients may not be able to give you back what you have given but they will be very grateful for what they have received.
The handover ceremony was attended by Jonas Piore, Division Partnerships Coordinator; local Church leaders and members; representatives from the DepEd SDO - Davao City, the Philippine Eagles, and Davao Midtown - Airport Eagles Club.
Hope for Last Mile Learners is one out of 60 humanitarian projects sponsored by The Church of Jesus Christ of Latter-day Saints in the Philippines in celebration of its 60th year in the country.
Latter-day Saint Charities 
Sponsored by The Church of Jesus Christ of Latter-day Saints, Latter-day Saint Charities (LDSC) is an application of the admonition of Jesus Christ to help others in need. Jesus Christ taught His followers to give meat to the hungry and drink to those who thirst. His gospel includes taking in the stranger, loving neighbors as self, and visiting those who are sick or imprisoned. He taught that we love and care for each other, visit the fatherless and widows in their afflictions, and lift those whose hands hang down and whose knees are feeble. 
Unique in its support structure, LDSC has access to the resources of The Church of Jesus Christ of Latter-day Saints, which include food production and processing, donated used clothing, employment and social services, and the ability to purchase goods locally in many parts of the world. We sponsor relief and development projects in 179 countries.