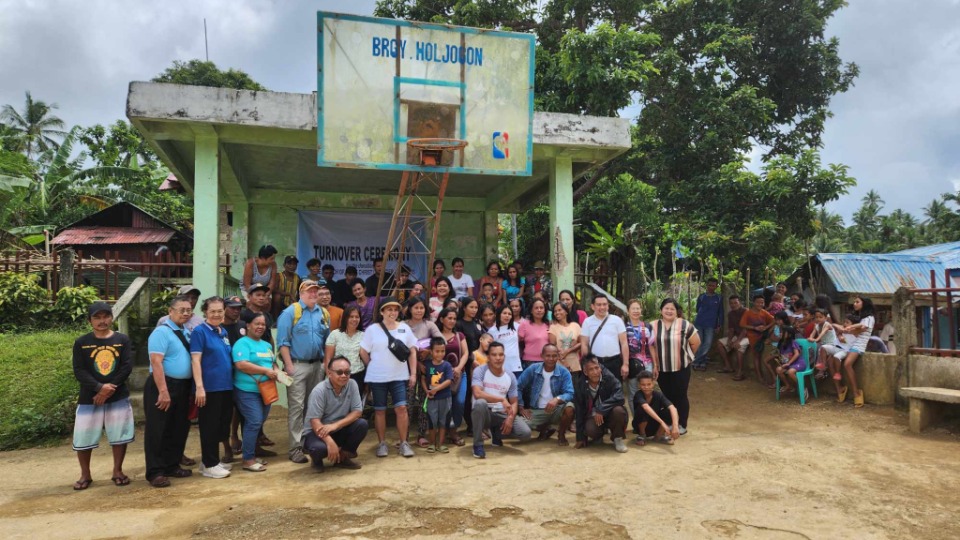 The Church of Jesus Christ of Latter-day Saints donated materials and transferred management of the Holjogon Water Project in Mobo, Masbate, to the local government unit of Barangay Holjogon in a turnover ceremony and Memorandum of Agreement (MOA) signing on August 2, 2023. This joint endeavor aims to ensure that every resident of Barangay Holjogon will have access to clean and safe water this year.
The project had its beginnings prior to the pandemic and was initiated by Elder and Sister Mercolita who were serving as Church humanitarian missionaries at the time. Holjogon Barangay Chair Nida Bolon led the barangay officials who were in attendance at the event, with the school heads of Holjogon Elementary School, Gloria Ocsing and Tugawe Elementary School, Gringo Oliva, and residents of the barangay. The former school head of Holjogon Elementary School who was also instrumental in the realization of the project, Sister Estelita Natural, also attended the event.
The Church was represented by Atty. Aris R. Montilla, Masbate District (Diocese) President with Elder Brendan Hayne and Sister Patricia Hayne, Church Welfare and Self Reliance Services – Humanitarian, and Elder and Sister Mercolita also present.
Barangay Chair Hon. Nida Bolon expressed her genuine and enduring gratitude to the Church for launching the water project in their community "It is still hard for me to believe that our barangay will be graced by this project. Numerous individuals discouraged me and advised me to halt, claiming that it would never come to fruition and that my time would be wasted. Yet, here we are. All the efforts of navigating the rugged terrain from our barangay to the town and city centers have finally paid off."
Sister Patricia Hayne conveyed her deep respect and admiration to Chairwoman Nida Bolon, acknowledging her courage to speak to her about the project (where proposals were previously submitted by the former humanitarian missionaries), despite her limited English language capabilities, during a separate turnover event at the Masbate District Center the previous year. "She is a great leader and planner, together with her barangay officials. However, every parent is a leader and planner too in their own unique ways. With this water project, you will no longer spend so much time fetching water. You will now have more time to dream for your family, plan, and climb mountains." Said Sister Hayne.
Elder Brendan Hayne and President Aris Montilla encouraged the residents of Barangay Holjogon to take ownership and responsibly nurture the project, ensuring its usefulness for the generations ahead. They also emphasized that irrespective of religion, members of The Church of Jesus Christ of Latter-day Saints are dedicated to helping them experience the love of God and recognize that He is mindful of their needs.