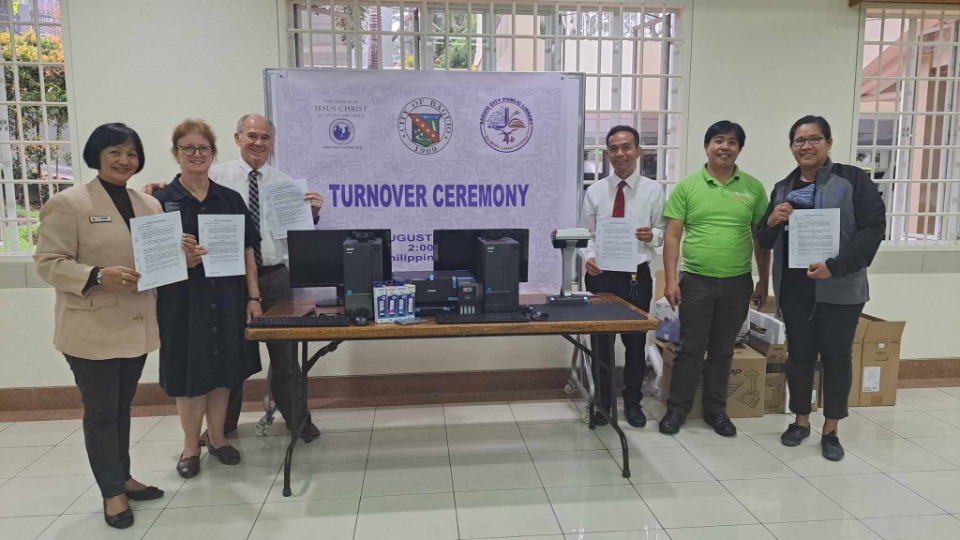 The Church of Jesus Christ of Latter-day Saints continues its commitment to uplifting communities by following the Savior Jesus Christ's example to love and serve one another.
Last August 22, 2023, the Church provided two computer sets, a scanner printer, and a web camera to the Baguio City Library. Through this contribution, the Church hopes to enhance the library's resources for family history research.
The turnover ceremony took place at the Legarda Stake Center, where Pres. Jaime Ballena, Stake President of the Baguio Stake (diocese) welcomed esteemed guests from the Baguio local government unit (LGU), including Jasmin Sembrano, representative of City Mayor Benjamin Magalong, several city library staff members, and other local Church leaders.
Ballena, in his message, highlighted the importance of accessible resources for citizens who wish to make connections with their ancestors and learn more about their genealogies.
Elder and Sister Heslop, serving as Church Service Missionaries, also shared their insights during the ceremony. They expressed their joy in being part of extending assistance to uplift the lives of the local community and the significance of fostering meaningful connections between generations.
Jasmin Sembrano conveyed her heartfelt gratitude on behalf of Mayor Benjamin Magalong. She acknowledged the Christlike goals of the Church in readily extending help to the city and its residents. She mentioned that her family would be among the first to utilize the donated facilities, underscoring the immediate impact of this contribution.
City Librarian Easter Pablo, a member of the Church, said that her gratitude was twofold – as a representative of the library and as an individual who understands the value of connecting with one's family history. She also said that she hopes for a future where many Baguio residents would frequently visit the library to search for information about their departed loved ones.
The Church of Jesus Christ of Latter-day Saints encourages its members to help and serve one another across all nationalities and beliefs. To know more about the Church, visit https://new.churchofjesuschrist.org/