The family is the foundation upon which strong communities are built. In order to strengthen families, Proclamation No. 60 declares the last week of September of each year as Family Week in the Philippines.
The Church of Jesus Christ of Latter-day Saints, a member of the National Committee on the Filipino Family (NCFF), in partnership with Local Government Units (LGUs)  and the Department of Social & Welfare Development (DSWD) celebrated the 22nd National Family Week with the theme, "Celebrating The Filipino Family: Resilient and Caring" from September 20 through 26, and was extended to October 2, 2014.
Valenzuela City was the host city for the 2014 national celebration participated by DSWD and NCFF.  Due to Typhoon Mario that hit the country, some activities were postponed to ensure the safety of the Individuals and families.  But the fun did not stop! The activities held a week after the typhoon included  a family fun walk, Zumba dance party, a variety of shows, family history exhibits, medical missions and inter-faith forums. These activities provided great bonding experiences for families. 
The 2014 National Family Week in Pictures Fun walk in Cagayan de Oro City National Family Week Celebration parade in Valenzuela City National anthem sung at the opening ceremony in Cagayan de Oro A number of individuals and families from Bacolod City joined the boodle fight A family from Cagayan de Oro showed full support to the family fun walk by wearing matching shirts
The concept of a united family that lives and progresses forever is at the core of Latter-day Saint doctrine. Within families led by a father and a mother, children develop virtues such as love, trust, loyalty, cooperation and service. Davao Stake leaders joined in organizing the National Family Week
Medical-Dental Mission in Laoag Missionaries from Philippines Bacolod Mission served their elderlies by giving a free manicure and pedicure during the Seniors' Day event Bacolod City showed appreciation for their parents by providing a free make-over to all the senior citizens during the Seniors' Day event Blood letting program in Zambales The man and man's bestfriend all dressed up during the Valenzuela Dog show Cagayan de Oro hosted an exercise session during the fun walk Pacinio family from Bacolod presenting a dance number. Ribbon cutting for Family History exhibit at Quezon City hall with a city representative; Felvir Ordinario, Geneological Researcher; Emelito Orencia,Quezon City Stake President. Families are Forever! Family History exhibit at Quezon City hall was a great attraction to the employees and everyone who passed by Recognition given to members during the Seniors' ball: an event that celebrated the faith, endurance, and testimony of members aged 50 and above
The Cagayan de Oro Tristake Choir during the National Family Week's "Love at Home Concert" at Limketkai Mall in Cagayan de Oro City Morning fun with Zumba dance party at Valenzuela. Family History exhibit held in Marikina Wild West party in Cagayan de Oro was jam packed with both young and old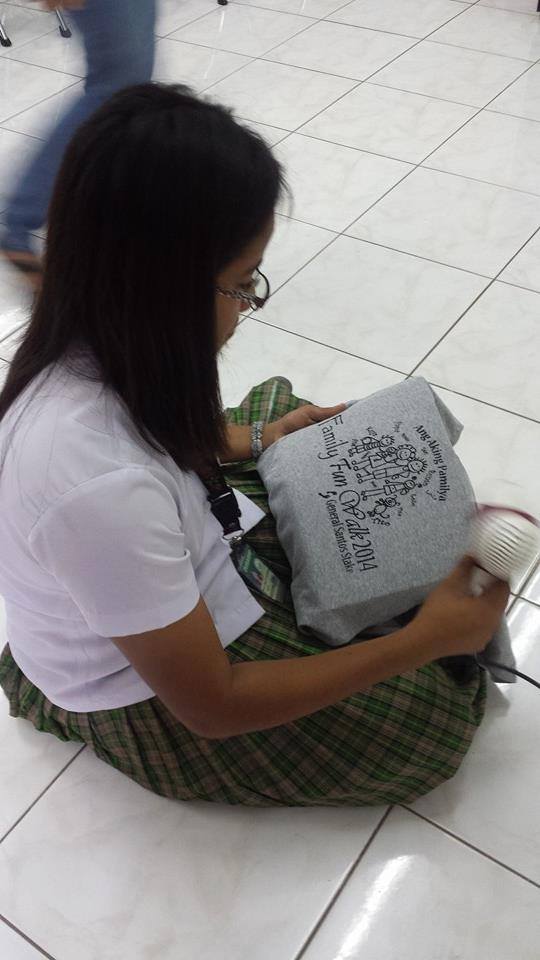 T-shirt printing for family fun walk in General Santos City Philippines Quezon City North missionaries participated in the Family History exhibit Mayor Doc Eric Saratan with the members from Bacolod during the fun walk event FaMealy Day is a nationwide call to celebrate eating with the family every 4th Monday of September Inter-Faith Family Summit hosted by The Church of Jesus Christ of Latter-day Saints at Quirino Chapel Attendees of the Inter-Faith Family Summit with Rep. Leni Robredo,Camarines Sur third district Representative with leaders of other faiths Valenzuela National Family Week closing ceremony was favored by a talented group of children Performing a Filipino dance during the Valenzuela closing ceremony
According to Church doctrine, a marriage performed in one of the Church's temples does not dissolve at death as long as the couple remain faithful to their temple vows. Rather, the family relationship continues beyond the grave, and individual family members can progress throughout eternity.