Mormon Helping Hands volunteers from 1,121 congregations of the Church all over the Philippines joined in the National Day of Service on April 27, 2013. Last year, the same national activity logged more than 350,000 man-hours of service ranging from coastal clean-ups, sweeping of streets and plazas, doing Brigada Eskwela activities to mangrove planting.  In the last 10 years, the Mormon Helping Hands program has been helping communities in a spirit of friendship and service. These volunteers in their trademark yellow shirts also help people whose lives have been affected by natural disasters and other emergencies.
Bacolod Philippines South Stake
Bacolod Philippines South Stake (diocese)  held their service project at the A.L. Jayme Elementary School with the theme "Sa Brigada 2013 sa Jayme, Kasali Kami!"  The event is also in line with the school's "Brigada Eskwela" project for this summer which aims to clean up and beautify the school.
Some 302 members contributed approximately 1,200 man-hours repairing and repainting classrooms and comfort rooms, cleaning the school's surroundings, mowing lawns, weeding, and doing mural painting and planting preparations. Mr. Ronie Tababa, the school principal, expressed gratitude for the services rendered by the Church. He remarked, "We are very blessed that out of the many schools in the division and the whole city, the Church of Jesus Christ of Latter-day Saints has chosen A.L. Jayme Elementary School to be part of their ministry. I consider them as one of the stakeholders of our school."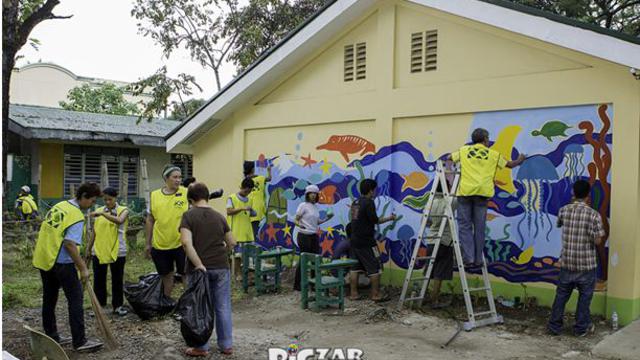 Members of ARFIEN-LCC Bacolod (School of Architecture, Fine Arts & Interior Design) led by Dr. Antonio Tejado painted a mural on one of the walls of the school buildings.  He expressed that murals beautify schools and added that, "a wall with a beautiful painted art commands respect. You seldom see people vandalizing murals."
Other sponsors, namely 91.9 Love Radio, 105.5 Easy Rock, Piczar, Davies Paints and Fame Christian Garden also gave their support by donating their own products and services to facilitate the community service event.
Jose Maria Plaza, president of the Bacolod Philippines South Stake (diocese)  commended the members for their participation. He stressed that, "This activity shows that the Church is serving the community and is actively involved in community activities." 
Cabuyao Philippines Stake
Over 200 Mormon Helping Hands performed 1,236 man-hours of service cleaning the shoreline of Laguna de Bay together with Barangay Pansol, the Calamba and Cabuyao chapters of the Lions Club, the 4P's recipients and Farm-C.  Advanced planning and coordination among the leaders started months earlier. Nenita Villaran, Public Affairs representative from the Church worked with Brgy.  Captain Sally dela Cruz..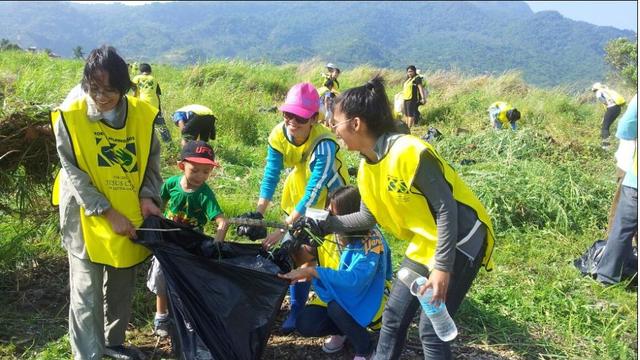 President Emmanuel Abraham of Cabuyao Stake (diocese)  said, "The involvement of  the church in this project is a result of our desire to serve because we are also part of the community. We wish to share in the responsibility of taking care of each other."
Sally dela Cruz, Barangay Captain said, "It is refreshing to work with so many people for a common goal, that is, to help restore the beauty of Laguna Lake.
Calape Philippines District
Wearing their trademark yellow Mormon Helping Hands vests, over 130 members met with Loon Mayor Lloyd Peter M. Lopez, Pastor Pay Labra of the Metropoliton Bible Baptist church and Pastor Abrendio Bastaso of Jesus Christ Church.  The volunteers began the day with an early morning meeting which included a  first aid training by FO2 Noel Reguina from the Loon Fire Marshal office.  Allan Baguio of  Calape Branch (parish) gave a training and demonstrated how to prepare a 72-hour Emergency Survival Kit. The meeting then concluded with a training from Basdacu Barangay Captain, Concordio Gorzales, on how to plant mangrove seedlings.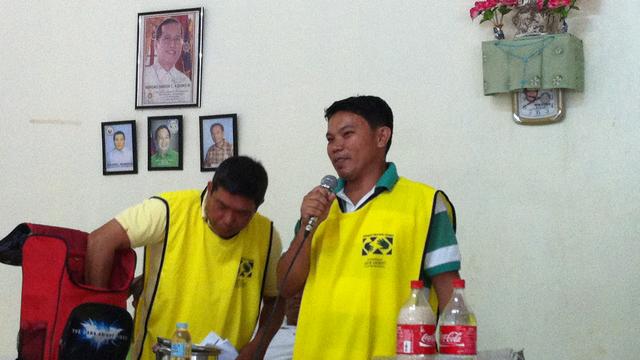 After the meeting, all participants went to the Basdacu Barangay shoreline and planted over 1,000 seedlings during low tide. There was a beautiful sunset as they concluded their 400 man-hours of service. The gathering of faith-based organizartions made the work easy, quick and fun. President Ricardo P. Salallo wrote, "By interacting with members of other faiths, we open communications with them that would lead to the building of relationships and in creating understanding!"
Oroquieta Philippines Stake
Hurley H. Enguito, President of Oroquieta Stake (diocese), gathered with the six wards and two branches (congregations) to join the National Day of Service.  Pres. Enguito organized and instructed the bishops and the branch presidents to lead their units in choosing community service projects.
More than 350 volunteers were able to  contribute 1,615 man-hours of service doing varied projects. Jimenez and Calamba Wards planted trees while Aloran Branch and Mobod Wards did coastal clean-ups. The rest of the wards (parishes)  cleaned schools in line with the government's Brigada Eskwela preparations.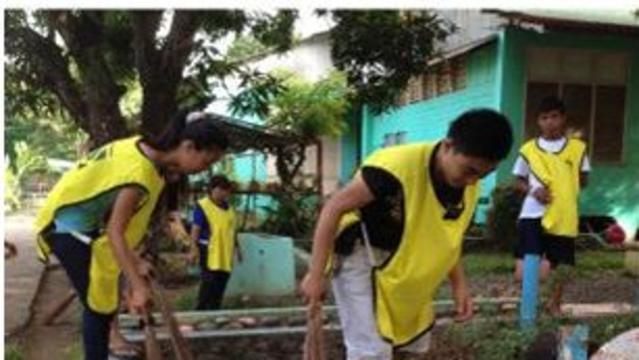 "Doing good is a pleasure, a joy beyond measure, a blessing of duty and love." This is one of the lines from  the hymn "Have I Done Any Good in the World Today"  which members often sing during Sunday services. 
Marikina Philippines Stake, Marikina 6th Ward
Volunteers from the Marikina 6th Ward (parish)  of the Church were well received by thirty-two residents of Barangay Concepcion Dos when they demonstrated how to prepare a 72-hour survival emergency kit and portable stove.  Since flooding in that area seems to be a regular occurrence, the information was well received. The first 72 hours after a calamity are critical and the kit provides the tools for survival. The group also discussed ways to preserve food and store needful items.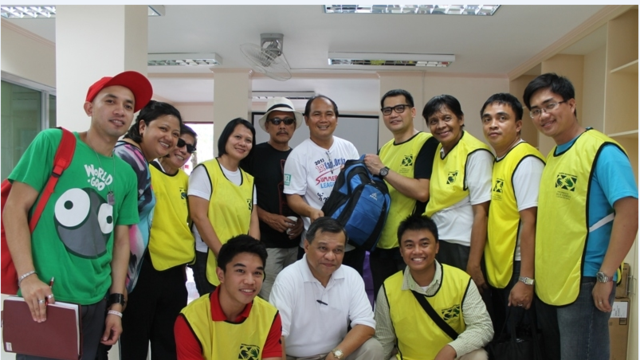 Barangay Captain Ronnie Ortiz of Concepcion Dos expressed his feelings,"We thank the LDS Church members for giving us this wonderful opportunity and seminar. This kind of seminar is what we need in our community."  
"Napakaganda ng seminar at dapat lang na maging handa tayo," said Rodora Mojica.   Maria Patrimonio added, "Maganda ang tinuro at madaling gawin."
Forty-two members went home happy because of donating 189 hours of service to the future welfare of so many.