Over the past 10 years, service rendered by members of The Church of Jesus Christ of Latter-day Saints come in many forms.  However, they come in one color: yellow.
These bright yellow vests have been a welcome symbol of hope and help whether in cleaning a park or in emergency response aid after natural disasters.
Kalibo Philippines Stake
A parade of yellow Mormon Helping Hands vests marched forward from the Albasan Plaza  to the Navitas Coastal Area on the 27th of April, 6:00 am.  Members from Kalibo Stake (diocese)  celebrated the National Day of Service in partnership with Luntiang Piipinas (Green Philippines) through making good use of their time picking up garbage  and collecting debris within the Navitas Coastal Area.  At 10:00 a.m. they gathered at the Navitas Barangay Hall for lunch.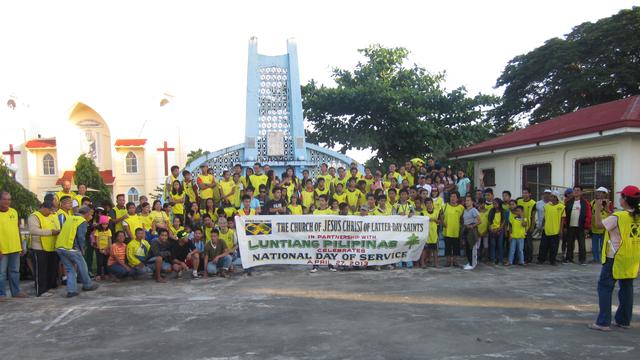 In the afternoon, a training on how to prepare a 72-hour emergency kit was conducted at the barangay hall of Bulwang, Numacia, Aklan.  It was attended by social welfare personnel, barangay kagawads, health workers and local youth volunteers.  The training was very timely since Barangay Bulwang is a flood prone area being located along the Aklan River. One of the Church leaders said, "If you are prepared you shall not fear."
Bulwang Barangay Captain, Fernando Ili. expressed his thanks to the Church for choosing his barangay as the venue and recipient of the 72-hour kit training.
The owner of the Navitas Beach Resort gratefully acknowledged the cleaning of the coastal area where the resort is located.  
Brenda Bustamante, Navitas Barangay Captain, also expressed her appreciation for the clean-up and training.  
"Our barangay is always visited by floods after the typhoons, being located along the Aklan River.  We will encourage our constituents to prepare the 72-hour kits before the floods occur.  This is our own way of helping our residents to mitigate the ill-effect of the floods", said Barangay Councilor William Ureta.
A volunteer from the barangay disaster brigade said, "Sana hindi pa huli ang lahat."
"To be prepared is half the victory" said MSWD personnel.
A total of 323 members donated 1,292 man-hours of service for this project.
Tagbilaran District
Dauis Branch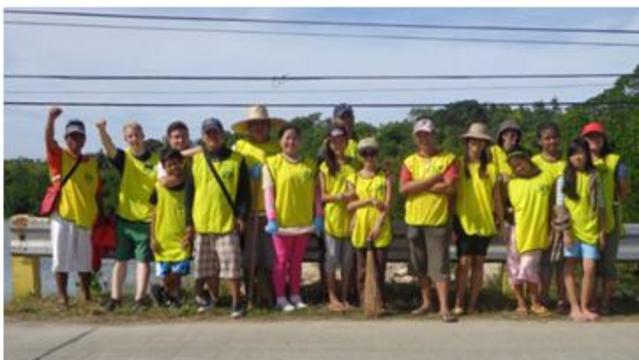 Sixty-three Mormon Helping Hands participants from Dauis Branch (parish) served their community a total of 315 man-hours service on the National Day of Service.  Working from 6:00 am to 11:00 am, they coordinated with the Dauis LGU for coastal clean-up projects. As a result, 27 bags of garbage were collected. Branch (parish) Pres. Ricardo A. Flores said, "We are happy to work with the LGU.   They look forward, hoping for a strong partnership, with us in future projects and programs."
Cortes Branch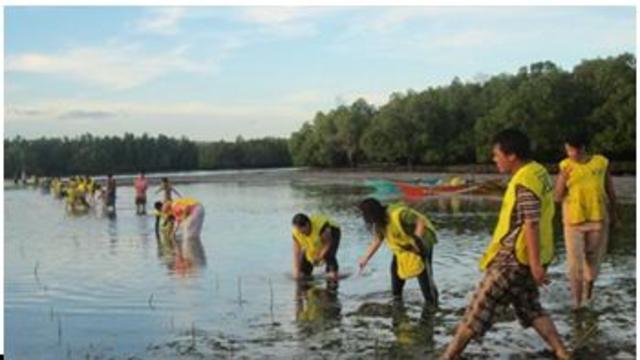 Wearing their Mormon Helping Hands vests, 40 members of the Cortes Branch planted mangrove trees in the swamp areas of upper De La Paz. They coordinated with the Department of Environment and Natural Resources (DENR) to be instructed on the proper way of planting the mangroves.  Branch President Pablito R. Brios said, "The DENR was grateful to have us help them in that little way. Service is one of the best ways to build relations in our community." A total of 160 man-hours of service was rendered.
Baclayon Branch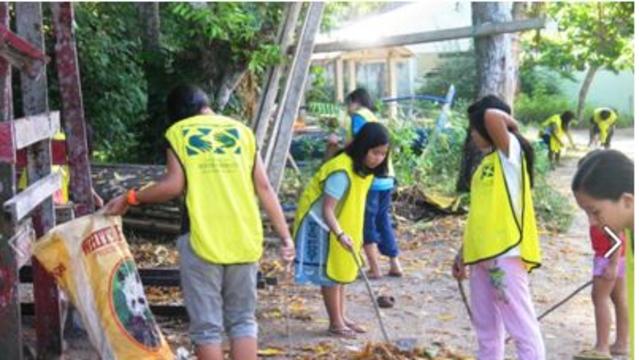 The Baclayon Branch cleaned the coastal area of Guiwanon Beach. Thirty-five members of the branch were wearing their yellow Mormon Helping Hands vests as they picked up garbage and debris.  They coordinated their efforts with the Barangay of Guiwanon and worked cheerfully assisting each other during the project. Pres. Harold Gardaci gave an inspirational message on how to preserve our environment and help the community.  A total of 105 man-hours of service was rendered.
Tagbilaran 2nd Branch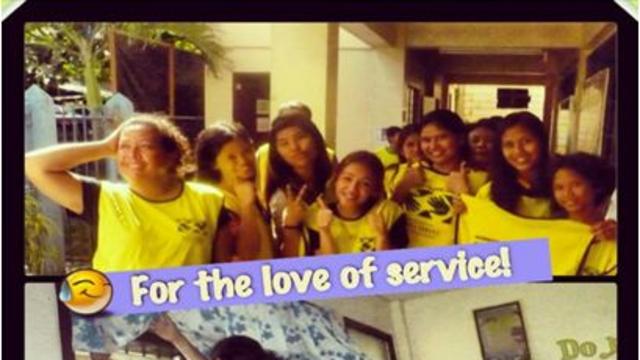 On April 27, thirty-three Mormon Helping Hands volunteers cleaned the Cogon National High School in support of DepEd's Brigada Eskwela campaign.  Working from 6:00 am to 11:00 am, they cleaned school grounds, and wiped classroom  walls, window and floors. Bro. Frylle Bongato said, "We are happy to serve the school.  The service helped strengthen our friendship with the community."
Valencia Branch
Fifteen members of the Valencia Branch planted 800 mangrove trees under the supervision of the Department of Environment and Natural Resources (DENR) fromPoblancion Sur, Valencia, Bohol.  From 8 am to 5 pm, they tirelessly planted the trees completing 135 man-hours of service. Branch President Artemio Arais said, "I feel happy that the community appreciated what was done. Through this activiy we have bridged gaps and created unity with people not of our faith."
Duero Branch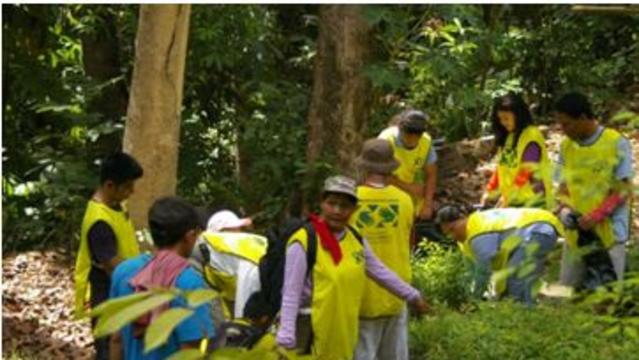 The Duero Branch of the Tagbilaran District had a successful tree planting service project on the National Day of Service. Wearing their yellow vests, 15 members of the branch served for 30 hours. Working with DENR,  they planted 86 acacia trees. Branch President Margarito Tingson said, "The DENR was very grateful for our service to improve the environment and help prevent landslides. We have a good partnership with DENR and our members were very happy to do the service."
Pilar Branch
Pilar Branch had 27 volunteers who participated in their efforts to clean Feedom Park. They were assigned by Mayor Wilson Pajo to help clean an area that tourists like to visit. The successful project was appreciated by the mayor.  He said, "We like to partner with Church members and have them work with us in planting and caring for the trees." Members of the branch worked from 7:30 am till noon for a total of 122 man-hours of service.
Jagua Branch
Nine members from Jagua Branch worked  from 9:00 am to 11:30 am doing a coastal cleaup at Poblacion, Jagua, and Bahol. Branch President Emmanuel Alpartu said, "We are thankful to work with our LGU and have the opportunity to serve our community.  Service helps us to build good relations with the LGU and community."  They completed a total of 20 man-hours of service.