The Church of Jesus Christ of Latter-day Saints invites everyone to hear a message of hope and renewal in Christ by participating in the rebroadcast of the 191st Semiannual General Conference on April 9-11 on GTV.
The following schedule reflects Philippine Standard Time:
The World Report: April 9, 3:30 PM
Saturday Morning Session and Saturday Afternoon Session: April 10, 2:00 PM
Sunday Morning Session and Sunday Afternoon Session: April 11, 2:00 PM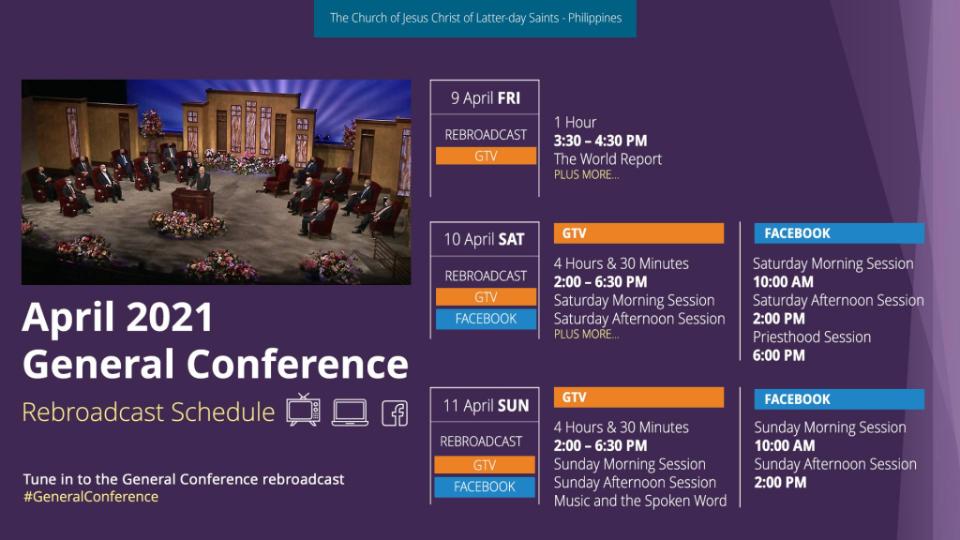 General conference is the worldwide gathering of Latter-day Saints. Twice a year, during the first weekend of April and the first weekend of October, Church leaders from around the world share messages or sermons focused on the living Christ and His gospel. Viewers learn how to find peace, hope, and joy in Jesus Christ; how to strengthen families by following our Savior's teachings; and how to receive personal guidance and inspiration from God. "The purpose of this and every conference is to help [all] to hear Him, that [all] can hear the messages the Savior has especially prepared" (Church President and Prophet Russell M. Nelson).
In a video released on Palm Sunday 2021 (March 28), Prophet Russell M. Nelson of The Church of Jesus Christ of Latter-day Saints invites people everywhere to focus on Jesus Christ this Easter.
During the week leading up to Easter, the Church president asks the world to "make this coming week truly holy by remembering — not just the palms that were waved to honor the entrance of Jesus into Jerusalem — but by remembering the palms of His hands." In Isaiah 49:16 of the Old Testament are the words, "Behold, I have graven thee upon the palms of my hands" — a promise, President Nelson says, that "[Christ] will never forget you."
President Nelson also invites people to "do something this week to follow [Jesus Christ's] teachings. You might make your prayers more earnest. You could forgive someone or help a friend in need. You can start today on a new spiritual quest."
Those looking for a place of worship on Easter are invited to watch the virtual sessions of the Church's Easter Sunday general conference, the prophet says. "[The conference] will be filled with Christ-centered messages and music. … Let us worship and praise Him for the peace, hope, light, and truth He brings to us."