A music filled Light the World Christmas Concert series featuring "Asia's Nightingale" Lani Misalucha and other renown artists was held at the Missionary Training Center (MTC) Activity Center at Temple Drive in Quezon City on December 17, 20 to 21 and at Buhangin Chapel in Davao City on January 6.
Musicians and artists including Dr. Sunbeam Choi from South Korea and The Philippine Madrigal Singers shared their talents in the culminating activity that highlights the Light the World initiative of letting kindness and the spirit of giving and service be the driving force of the holiday season.
In attendance at the four-part series of concerts are friends from different interfaith communities, leaders in civic organizations,leading figures in society and leaders and members of the Church.
Elder Yoon Hwan Choi, 1st Counselor of the Area Presidency remarked that the Light the
World Christmas Concert series is "a way for us to rejoice that, after the darkness that came
because of the pandemic, we should rejoice in the Light of Christ." He adds, "We rejoice in this great light and partake it with music, because music is the meditator and breach between man to man, soul to soul, and heart to heart."
Four Nights of Music
Elder Choi's son, renowned Latter-Day Saint pianist Dr. Sunbeam Choi serenaded the December 17 audience with a repertoire of Christmas hymn arrangements such as "The First Noel" and "O Holy Night", along with other Christmas hymns. Classical scores also played by Dr. Choi were Bach's "Singet dem Herrn ein neues Lied (Sing Unto the Lord a New Song)" and "Ave Maria (Hail Mary)" as well as Schumann-Liszt's" Liebeslied (Widmung), S. 566."
The Philippine Madrigal Singers treated the December 20 audience and guests with a beautiful serenade of classic Christmas carols like "O Holy Night", "Have Yourself a Merry Christmas" as well as a medley of Filipino classics like "Pasko Nanaman"," Noche Buena" and "Pasko ng Madla. "
Guests were also entertained as the choir expressed their feelings of happiness, laughter, and love as they sang a repertoire of the group's personal favorites such as Henry Mancini's "Moon
River", Elton John's "The Circle of Life" from 'The Lion King' and Ryan Cayabyab's "Da Coco Nut". The Philippine Madrigal Singers is considered to be the country's most prestigious choir. Organized in 1963, they have earned countless awards and international acclaim and are known for their unique set-up of singing in a semi-circle while seated.
"Asia's Nightingale" Lani Misalucha headlined the December 21 culminating concert along with other Latter-Day Saint talents Anton Antenorcruz; Top four Grand Finalist of the popular TV singing contest "Tawag ng Tanghalan",
Loredel "Daday" Ducena–Baluyot, the cast of "Hear Him Through Music" and the Southern Luzon Regional Choir.
The Southern Luzon Regional Choir formally opened the event through classic Filipino
carols like "Ilang Tulog Pa Ba?" and "Kumukutikutitap". The choir sang along with
Daday Ducena-Baluyot, to "Liwanag Niya", a song co-composed with Justin Baluyot which
premiered in the "Promise of Christmas", a Light the World virtual concert.
The "Hear Him Through Music" cast filled the halls with a repertoire of Christmas carols, like "The First Noel" and "Is There Room?", and the "For the Strength of Youth" Medley.
Anton Antenorcruz then serenaded the audience with "This Christmas", "My Grown-Up Christmas List" and "Have Yourself a Merry Christmas." with Daday Ducena-Baluyot.
The penultimate night in the concert series featured Lani Misalucha's repertoire of Christmas songs like "Silent Night", "Do You Hear What I Hear" and "Mary Did You Know". She brought the audience members to their feet with a powerful duet with Anton Antercruz of the song "The Prayer" by David Foster as popularized by Celine Dion and Andrea Bocelli..
The music-filled event ended at the MTC Activity Center in Quezon City as Lani Misalucha and Friends sang a beautiful rendition of "O Holy Night."
In Davao City, Dr. Sunbeam Choi once more delighted audiences st the Buhangin Chapel a few weeks later on January 6 with more piano pieces like "Lieder Ohne Worte" by Felix Mendelssohn and "Widmung" by Robert Schumann and arranged by Franz Lizst and renditions of well-loved hymns like "O, My Father" "I Stand All Amazed" and "I Know That My Redeemer Lives". Dr. Choi remarked; "Music motivates change, it opens our hearts." He further added "The song of the righteous is a prayer unto Me." as he gave a rendition of "A Child's Prayer" .
The concert series ended as Dr. Choi led the audience in singing the first verse of "I Am A Child Of God"
Light The World Continues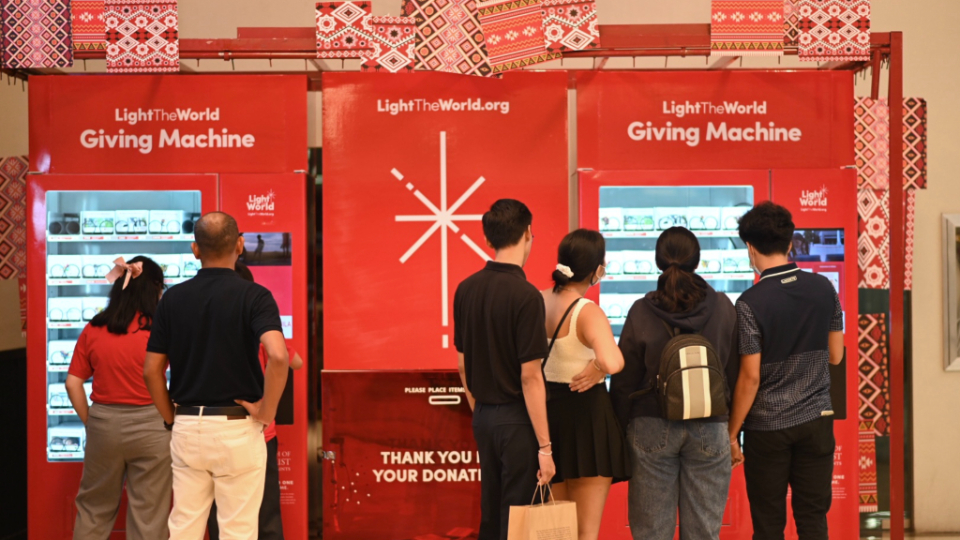 Area President Steven R. Bangerter remarked on how Christmas is about the blessings of God given gifts. He said "Christmas is all about gifts, it always has been about gifts even on that silent night on a manger. It was about a gift, the greatest of all gifts that could be given as God our Heavenly Father gave his son Jesus Christ for us. It was all about the blessings of gifts."
The Light The World initiative in 2022 was officially launched last November 18 and 25 when two Light the World:Giving Machines were unveiled at Festival Mall Alabang and Ayala Center Cebu and a face-to-face annual temple lighting ceremony on December 1.
The Light the World initiative began in 2016 and is on its sixth consecutive year.
'Light The World' is an invitation to transform Christmas into a season of service. It's a
worldwide movement to touch hearts and change lives by doing the things Jesus did: feeding the hungry, comforting the lonely, visiting the sick and afflicted, and showing kindness to everyone.
In the New Testament, Jesus said, "Ye are the light of the world…Let your light so shine before men, that they may see your good works, and glorify your Father which is in heaven" (Matthew 5:14-16).