The concept of a united family that lives and progresses forever is at the core of Latter-day Saint doctrine. Love for family resonates with people around the world.
As part of its commitment to strengthening families, The Church of Jesus Christ of Latter-day Saints joins the country in celebrating the 30th National Family Week from September 25 to October 1, 2022. The week-long celebration collaborates with the National Committee on the Filipino Family (NCFF) and all partnering government agencies and civil society groups.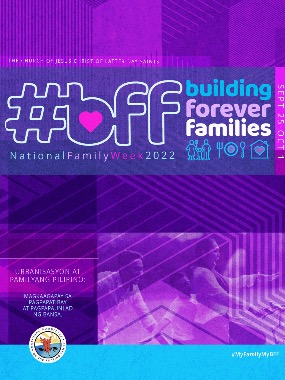 The theme set by NCFF for this year is Urbanisasyon at Pamilyang Pilipino: Magkaagapay sa Pagpapatibay at Pagpapaunlad ng Bansa (Urbanization and the Filipino Family: Working Together for a Strong and Progressive Nation). The Church supports this nationwide initiative by encouraging all stakes (dioceses), districts (small dioceses), and missions to join in the celebration.
Consistent with this, The Church of Jesus Christ of Latter-day Saints in the Philippines encourages members to use #BFF. #BuildingForeverFamilies for the social media campaign.
#BFF is a popular acronym for "Best Friends Forever." It is an expression to denote affection between friends. Many popular brands have carried the term in their marketing and social media campaigns, and it has retained its popularity as a go-to expression to describe friendship. For quick recall, the Church s used BFF to denote the specific purpose of building forever families. Visit https://www. facebook.com/churchofjesuschristph to view the content for the celebration of National Family Week.
The Church will broadcast shows on its Facebook page and YouTube channel every night at 7 PM, starting September 25 to October 2. These shows or episodes will feature local Latter-day Saint families and their talents and highlight lessons and topics that can help strengthen the Filipino family. Celebrity couple Eric and Rona Tai will host the daily events.
This year's National Family Week activities and dates are as follows:
Sunday, September 25: Building Forever Families Area Presidency Devotional
The celebration kicks off with a devotional highlighting inspired messages from the members of the Area Presidency. The featured messages will center around the importance of families and ways to have better relationships within our homes.
Monday, September 26: Better Families through FHE
Family Home Evening with Elder and Sister Bangerter
The Church's Family Home Evening program encourages members to dedicate time during Monday evenings to their families. 
Join a Filipino family as they invite Elder Steven Bangerter, a member of the Area Presidency, and his wife, Sister Susann Bangerter, to have a Family Home Evening with them.
Tuesday, September 27: Bridging Families through Family History 
Get To Know Your Grandparents
The Church wants to encourage the youth to spend more time with their grandparents and older relatives so they will feel important. 
Aside from researching old documents, this episode will spotlight interviewing grandparents and show a grandchild asking about their memorable experiences in the past.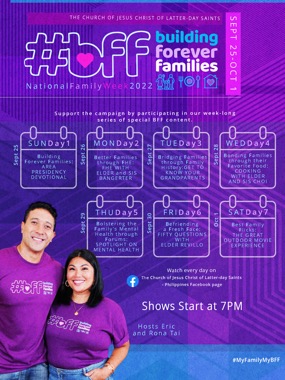 Wednesday, September 28: Bonding Families through their Favorite Food
Cooking with Elder and Sister Choi
To celebrate Filipinos' innate love for food, this episode will highlight a pre-recorded cooking demo of popular Korean dishes with Elder and Sister Choi as they talk about family values.
Watch this broadcast and discover how cooking and talking about food can strengthen family relationships and create lasting memories.
Thursday, September 29: Bolstering the Family's Mental Health through Forums
Spotlight on Mental Health
Watch Family Services Manager Mary Ann Balen lead a discussion on mental health. This episode will be a live event where a mental health professional will be part of the panel to answer real-time questions and concerns about the topic.
Friday, September 30: Befriending a Fresh Face
Fifty Questions with Elder Reviilo
As the newest member of the area presidency, watch and get to know who Elder Revillo is by spending time with him, following him around with a camera, and asking him fifty questions.
Saturday, October 1: Best Family Flicks
Outdoor Movie Night
In pursuit of "wholesome recreational activities," families cooped up in their homes will be treated to the unique experience of an open-air movie screening. Join members and families from different stakes of the Church gather to watch a movie in their stake centers and meetinghouses nationwide and watch one single film. 
Sunday, October 2: BFF Recap
The Week that Was
This episode will be an opportunity for those who missed some activities to appreciate what has transpired during the week.
About National Family Week
The National Family Week celebration is in accordance with Proclamation No. 60, signed in 1992, in which the state declared every last week of September as National Family Week in recognition of the sanctity and value of the family. This declaration, signed by the late former President Fidel V. Ramos, is in accordance with the Philippines Constitution, which affirms that "the state recognizes the Filipino family as the foundation of the nation." The Church has remained at the forefront since 1992 in supporting this proclamation.